Nannie Helen Burroughs NE Corridor Small Area Plan

The Nannie Helen Burroughs Avenue Corridor Small Area Plan (NHBC-SAP) will become a guide for the development of neighborhood-serving mixed uses including: retail, infill housing,enhanced green spaces and public space activation along the corridor. The strategy will also contain urban design guidelines for new land use designations found in the recent Comprehensive Plan update. The NHBC-SAP will continue the implementation of the recommendations from the Comprehensive Community Development Model (CCDM) completed in April of 2021. The community will be engaged throughout the process and will be instrumental in setting priorities for implementation, conducting a public life study of the corridor, as well as greenspace and park visioning.
The Nannie Helen Burroughs Corridor Marketplace at Riverside Center
Nannie Helen Burroughs Avenue, NE is a predominantly commercial corridor in the northeast end of Ward 7 that crosses through multiple neighborhoods – some of which are recognized as the oldest and longest-standing Black communities in D.C. The study area includes a one-mile stretch of the corridor that runs from Minnesota Avenue, NE as its western boundary and Division Avenue, NE as its eastern boundary. The study area includes parcels predominantly zoned for multi-family residential and mixed-uses, as well as public parks and open space.
This Corridor Plan's deliverables will guide the development of neighborhood-serving mixed-use parcels along Nannie Helen Burroughs Ave, NE. The existing neighborhood character and community culture must be incorporated into the Public Realm Strategy, Marvin Gaye Park Vision, and Urban Design Guidelines. Nannie Helen Burroughs Ave, NE has strong potential for infill and revitalization, and there is an opportunity to apply urban ecology principles to guide sustainable public realm and urban design improvements, which will define key intersections and neighborhood hubs that include retail and mixed uses.
Get Involved. You are Invited to Participate.
Goals for the Nannie Helen Burroughs Corridor Study Area
Goals for the Nannie Helen Burroughs Ave, NE Corridor Strategy Tasks include:
Public Realm: Create guiding principles for active street environment, open spaces, and park environments that helps reinvigorate the commercial corridor while improving user accessibility.
Urban Design: Develop strategies to improve the pedestrian experience of the corridor's gateways, including the activation and maintenance of the significant amount of green space, while increasing density for commercial, retail, and residential uses.
Retail Strategy: Update the Deanwood Retail Market Analysis (2017) and identify the commercial nodes best poised for revitalization.
Map of proposed Study Area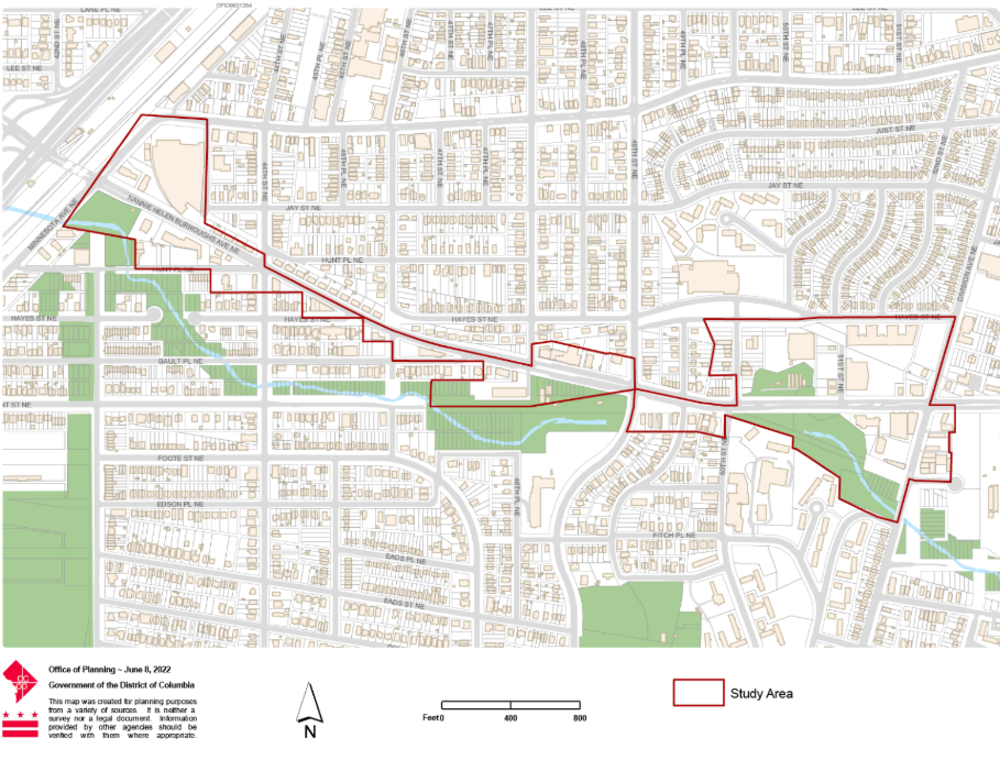 To request language assistance or a reasonable accommodation due to a disability, please complete this form at least 5 days before the event. If you have any questions, contact the Office of Planning at op.access@dc.gov or 202-442-7600.